MAGICAL SPELL FROM LITHUANIA
Tell us about how you met and decided to create
SMELLS LIKE SPELLS?
For a very long time, about 15 years, I, Vilius, was working with Tarot cards and Old Futhark runes for readings, divination and consulting. I was even making special occasion candles with rune signs for individual clients. When we met with Marius we created SMELLS LIKE SPELLS together as the result of our long time collecting knowledge of folk wisdom, aromatherapy and modern ways of creating magical scented candles, incenses and home perfume. So, SMELLS LIKE SPELLS for now is a wise mix of magic, folk wisdom, aromatherapy and modern perfumery.
Maybe a strange question, but why candles?
Probably you have already wondered about the extraordinary power of a candle. Why is it that many of us can spend hours looking at its flame in fascination? Why does that calm us? In many cultures and religions there is a direct connection made between a candle and the human body, where wax is the body, wick is the spirit, and flame is the soul. That's why every enchantment, magic ritual or spell is accompanied by candlelight. It is widely believed that by cleansing a home with a candle's flame the environment becomes more transparent, lighter, thus making living in such a home more pleasant and healthy. Candlelight fills a home with coziness, concord and harmony. The proper choice of color, fragrance, or magical symbols may attract love, wealth and other things, important to everybody. The flame cleanses us and our energy fields.
What does your daily business & behind the scenes look like?
At the first glance it may look very romantic to create and produce candles and incense, but behind the scenes we work hard to reach the result, keep the quality and craft our magical products exceptionally by hand every day. Every week we plan the production schedule and every day we take care of supplying chains. We have to be very precise about it, because sometimes we depend on nature: some incense cannot be crafted in rain season in Nepal Himalayan or the candles cannot cool down in really hot summer weeks, because we still do not use refrigerators and appreciate only natural cooling. Every day starts with talking with our team about tasks for the next few days, packaging magical purchase orders at our webstore and sending them worldwide. The remaining time we use to create new magical recipes, communicate with our amazing partners who help spreading SMELLS LIKE SPELLS magic around the world, look for new materials etc. If that still looks very romantic, let me tell you that we are taking care of all the documents, accounts, certifications and all not so interesting but no less important things. :)
If you could change one thing, anything, what would you do differently today for SMELLS LIKE SPELLS?
We can start talking about everyday small issues of accounting, law or logistics and there will be plenty of things we'd do differently if we started creating the brand from zero, but in general all our mistakes we have made we have already turned in our strong points.
What are your favorite products/smells?
The most difficult question ever ;) … We do not think that there is one or another smell that is favorite, because every smell we use serves a different need for every single and different day. For example, if we need a romantic mood we light the candle with the smell of rose, jasmine and verbena and when we feel stuck in some situations we use agarwood or cedar to stay strong against challenges. So, we cannot say that we have favorite smells, we have various recipes for various situations and what is amazing, that these favorite smells become favorites only at the moment when we feel we need them.
Share with us your very special insider ritual.
Everyday we use plenty of various rituals as lighting one of our candles at our studio in Vilnius by the mood or the moon phase of the day. We avoid to light the MIMIR magical candles at work because it's purpose is to help to relax and the effect is so strong that everybody on our team starts to turn circles around the couches. ;)
But we always and everyday:
1. count the money in the morning and not in the evening
2. do not take out the rubbish in the evening
3. we do not wipe the floor in the evening
4. we do not keep our bags on the floor
All these tips are the old secrets of abundance magic!
What is the biggest challenge to create a brand and stay on top of things each day?
Every day brings new challenges and asks for different efforts, but when you do what you like the challenges become hobbies. ;) We create totally unique brands and products we would like to use at our homes and lives, so the everyday challenges cannot be described as challenges, everyday tasks may be more like one more fence over which we should jump. For some of them we just need to train longer.
What is inside of your candles, incenses, home perfume?
As much as it is wise and possible, natural ingredients, plenty of love, a huge dose of hand crafting, modern perfumery experience and a drop of magic and esoteric know-how.

What's next? Any new smells or products in the future?
We plan to launch magical mixes of essential oils and home sprays.

What does matter for you the most?
The most - values. The most important thing for us is to find the partners who work and rely on the same values creating and presenting the ingredients and final magical recipes.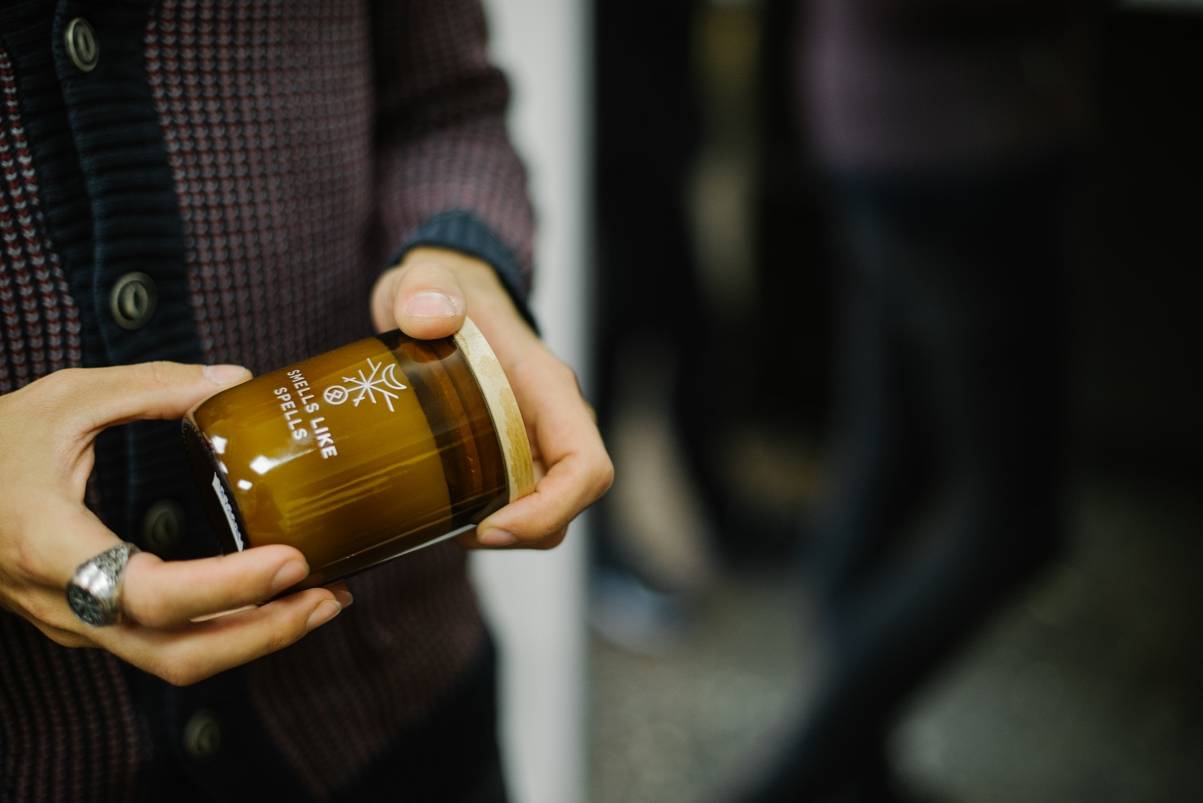 "In many cultures there is a connection between a candle and the human body, where wax is the body, wick is the spirit and flame is the soul..."